The ethos behind Miss Cooper Makes is slow, sustainable sewing. The items in the range feature one or more of the following aspects – 
the item has been upcycled or recycled
made from remnants or fabric scraps
made from natural fibres
made from organic fibres
the item is multi-purpose
the item is reusable
Most items are made with natural fibres (such as cotton, denim and linen) and often utilise remnants, scraps and de-stashed fabrics and notions. Many items in the range are multi-purpose or re-usable and made to replace single-use items in your life.
Each item is made with care and attention to detail, and use finishing techniques such as top stitching that make the item not only durable, but also give a professional result. All items are handmade here in my studio in Melbourne so there will be the minor quirk here or there, just to remind you it's handmade, but that just adds to the appeal. Limited runs (sometimes of only 1 or 2) are standard as I choose to work with many 'found' fabrics – from op shops, shop remnants, end-of-bolt cuts, dead stock, fabrics gifted or found at markets. When materials need to be purchased, the first place I look is online – there are plenty of 'de-stash' web pages and online fabric groups where real treasure can be found. Purchasing new is a last resort but can often provide the finishing touch to really bring an item to life – the perfect coloured strap for a tote bag, a bright zip for a pouch, or a cute print for a kids item.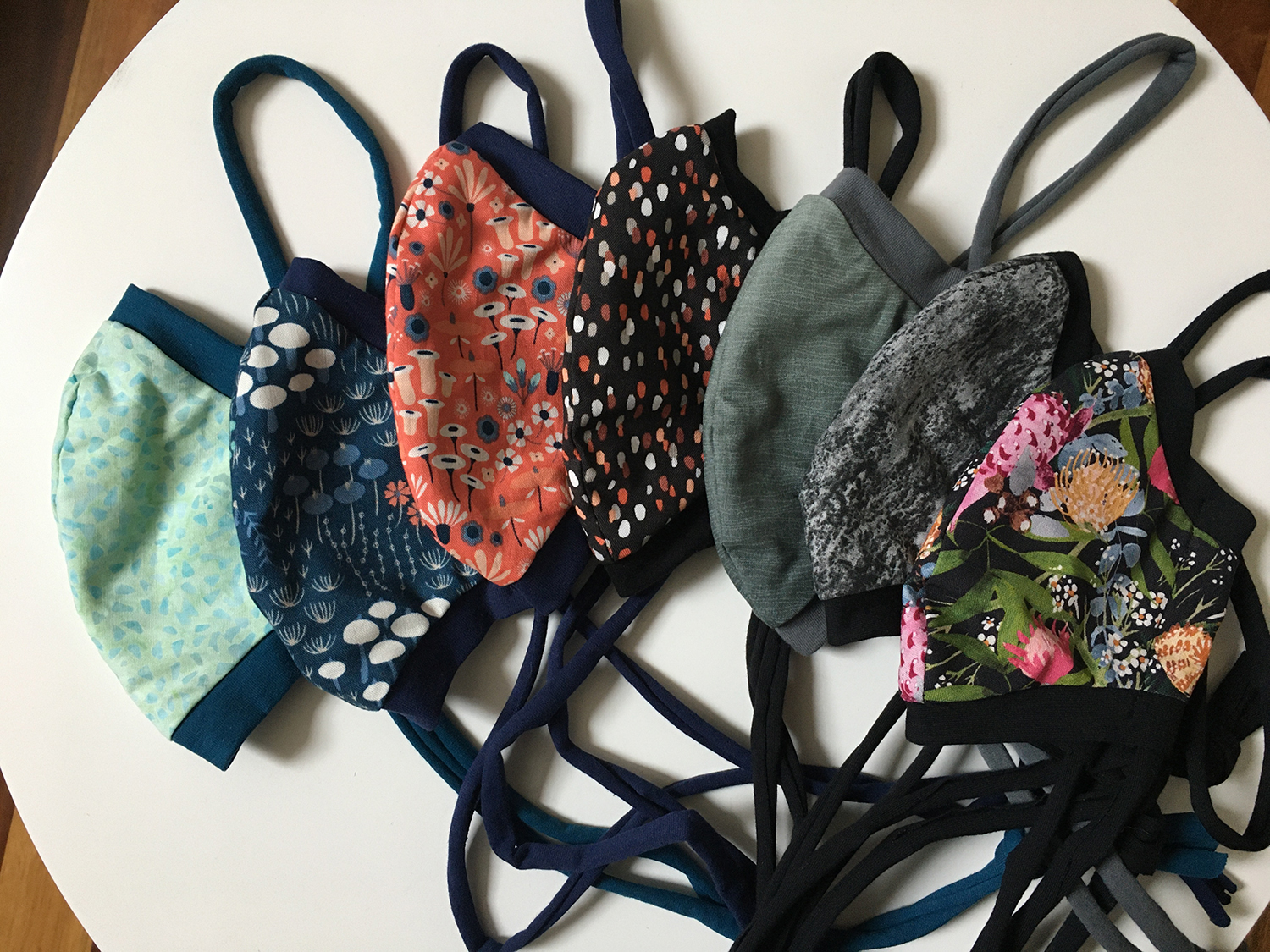 During 2020, Miss Cooper Makes made and sold over 300 face masks. Given Melbourne's lockdown, no access to op shops, second hand stores, markets or retail stores, and the huge demand for fabric (especially cotton), fabric had to purchased where ever it could be found online – from large fabric stores to local retailers, eBay, Facebook Marketplace and Etsy. One of the downsides to purchasing in that way meant, in most circumstances, a minimum of one metre needed to be purchased of each fabric. One metre makes a lot of masks! Needless to say, that I have lots of 'less-than-a-metre' cuts of lovely quilting cotton in my stash that I am making my way through and for this reason, you might see a larger volume of small pieces in the same fabric available – I am determined to get through that stash and back log of fabrics and will see how long it takes me.
On the path to becoming a zero waste studio, all labels are made with post-consumer-waste paper, packaging is minimal and plastic-free, and any smaller scraps of material that are left over from projects are donated to textile recyclers or given to makers who work on smaller scale projects such as fabric covered buttons and earrings.
Take a look at the online store to see the current range of products, if you have any other ideas on what Miss Cooper Makes could make next, I'd love to hear from you.